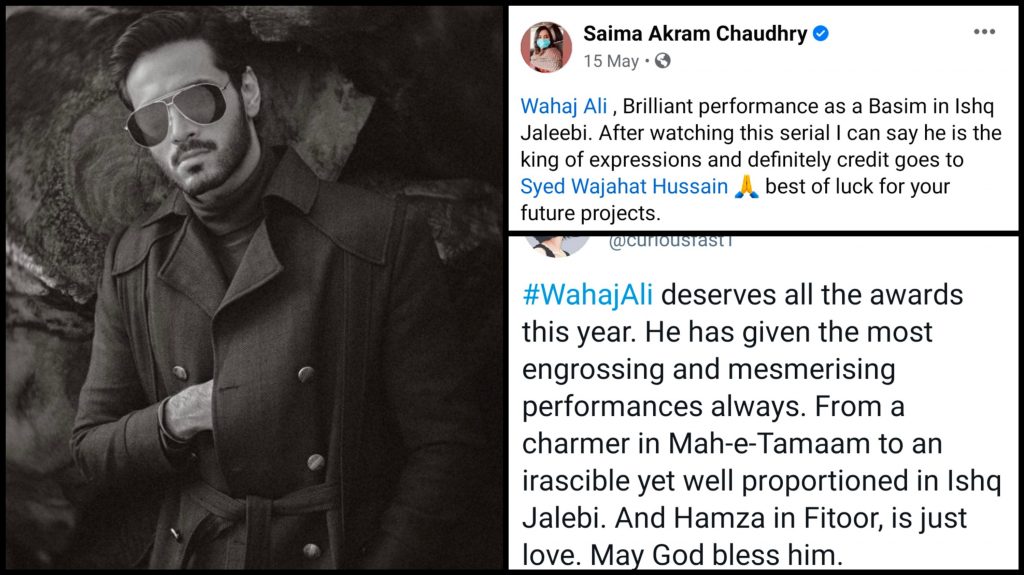 Of all the actors in the industry right now, Wahaj Ali has been consistently winning the hearts of his fans as he sets the bar higher and higher with every new project that comes his way. Currently having worked in Ishq Jalebi, Dil Na Umeed Toh Nahi and Fitoor, fans have been enjoying the various characters that he's portrayed to absolute perfection.
Despite being a Ramzan special drama, fans are majorly missing Ishq Jalebi and the magic that Wahaj weaved into Basim:
Mr Basu <Savage> Kumar once said PART 1

Mera ek bhi clip delete karne ka dil nai kar Raha! So bear with the length I promise you won't be bored for a Mili second! ♥️@iamwahajali #WahajAli #IshqJalebi pic.twitter.com/vxfjbK2ihd

— Jiya 🦋 🇵🇸🇵🇰 (@_Jaweria_) June 14, 2021
I don't think I'm getting over Basim Hussain anytime soon.#IshqJalebi #WahajAli pic.twitter.com/ew73vWDdWy

— na maloom fard (@thatjulykid) June 13, 2021
My timeline is full of Basim tweets and I'm loving it. He is finally getting the attention he deserved.😭❤#WahajAli #IshqJalebi

— ✨ (@pkdramatalks) June 12, 2021
WAHAJ LIVED BASIM & EVERY FREAKING SINGLE SCENE PROVES IT HIGHLY.#IshqJalebi #BelSimKiShaadi https://t.co/JCoDBT2MDa

— ; (@boldpisces) May 16, 2021
that sudden change in expressions. That's WAHAJ ALI for ya'll👑#IshqJalebi | #BelSimKiShaadi pic.twitter.com/Vv27pTTlo0

— Balushahi weds Petha (@whyyyy_mee) May 16, 2021
#IshqJalebi Shout out to @iamwahajali brilliant performance as Basim! Basim was written so well – these days such nuances are sorely lacking in heroes. He had flaws and he owned it. A very relatable and natural performance!! Great job by writer and director also👍👍

— Dramafan (@KhyberSKY) May 16, 2021
He's currently taking fans on a rollercoaster of emotions as he plays Jamshed in Dil Na Umeed Toh Nahi:
The meeting of Jamshed and Rakhi was so emotional and the way #WahajAli reacted was so intense, never seen such level of performance from him, the best, every expression was on the spot #DilNaUmeedTohNahi

— Sam's Thoughts (@sam5928) June 13, 2021
This scene is all my heart ❤️
It made me emotional as i never impressed so,
It made me eyes wet
It made me hit mentally and emotionally 😟#DilNaUmeedToNahi #DilNaUmeedTohNahi #DNUTN #WahajAli #YumnaZaidi pic.twitter.com/f9f9Nl2q22

— Osama Ahmed (@osamtistic) June 11, 2021
Wahaj just blew it away, such a tremendous performance.. words are not enough 👏🏻🤧😭♥️
Hats off literally 🤧#DilNaUmeedTohNahi#WahajAli pic.twitter.com/LmY9b52eQr

— ⭐ (@_iffrah) June 7, 2021
It was nothing but sheer brilliance👏🏻 #DilNaUmeedTohNahi #WahajAli ❤️❤️❤️ pic.twitter.com/4iEv211nek

— Nancy (@dnancy02) June 7, 2021
Needless to say fans mourned Hamza's absence in Fitoor and with a return so intense, fans are thoroughly amused!
Take a bow because you always make me WOW @iamwahajali 🙌🏻#Fitoor #WahajAli

— Rida🇵🇰✊🏻🇵🇸 (@imridax_) June 11, 2021
No one:

Absolutely no one:

Hamza 24/7:#Fitoor #WahajAli #IshqJalebi @iamwahajali pic.twitter.com/Z0JHq9qrGr

— pyaara petha ♥️ (@aaliyawrites) June 11, 2021
Shades of Hamza in just 1 episode🔥

From drug addict to behaving like an angry psychopath and then a person who is madly in love❤

Wahaj did it all amazingly,literally owing the character😌🔥@iamwahajali take a bow man🙌#WahajAli #Fitoor pic.twitter.com/CGybkYeNXi

— HAYAT✨ (@BratCarefree) June 10, 2021
Hii 🤤 Finally!!
Welcome back Hamza !!
You are nailing your every role like pro!!!
Hamza this psycho ashiq i am just loving it 😍😍
starting to watch #fitoor again only for #WahajAli … pic.twitter.com/Tlv9lsV8IF

— 🇧🇩🇧🇩🇧🇩🇧🇩 (@itsdc1) June 10, 2021
"Khud ko barbaad karna,koi problem hai!??"

My boy don't deserves this😭 They broked him completely💔#WahajAli #Fitoor pic.twitter.com/kHF1bcVmWe

— HAYAT✨ (@BratCarefree) June 10, 2021
#WahajAli shined as Hamza today💥

His 10 mins screen presence is enough to overshow d entire episode💥

His body language, expressions as d maniac, obsessive n addict HAMZA were brilliant💥

So excited to see Hamza's dark, tragic journey coz Wahaj will freaking nail it.#Fitoor pic.twitter.com/HugqgXEcuG

— Anshi (@anshi_Vik) June 10, 2021
Not only are his current performances a hit, he's been proving his mettle from time and time again, be it Ehd-e-Wafa, Mah-e-Tamaam or Ghisi Pitti Mohabbat, he's quite the charmer!
So I am currently watching #Fitoor and #IshqJalebi and man #wahajali has nailed it by playing the characters of #Hamza and #Basim. He is a gem for sure. 😍😍

— Rabia (@poeticrabia) June 11, 2021
#WahajAli deserves all the awards this year. He has given the most engrossing and mesmerising performances always. From a charmer in Mah-e-Tamaam to an irascible yet well proportioned in Ishq Jalebi. And Hamza in Fitoor, is just love. May God bless him.
LOVE YOU❤️ @iamwahajali pic.twitter.com/Xp63WuIUrO

— intelligent_zombie (@curiousfast1) June 10, 2021
From innocent Shariq to savage Basim and than from lover boy Hamza to the powerful performance of Jimmy all by the talented @iamwahajali
No words for his excellence. He is just perfect in every way.❤#WahajAli #EhdEWafa #IshqJalebi #Fitoor #DNUTN #WahajFan pic.twitter.com/NfqeFqzVUy

— Priyansha Kumar (@iampriyanshaK) June 8, 2021
Jamshed, Basim and Hamza.

3 completley different characters performend brilliantly by #WahajAli

This guy is so versatile. 👏👏👏#DilNaUmeedTohNahi #Fitoor #IshqJalebi pic.twitter.com/68NSH4ZXBp

— Anshi (@anshi_Vik) June 7, 2021

Do you agree that Wahaj Ali is the next big thing in the industry? Let us know in the comments below!