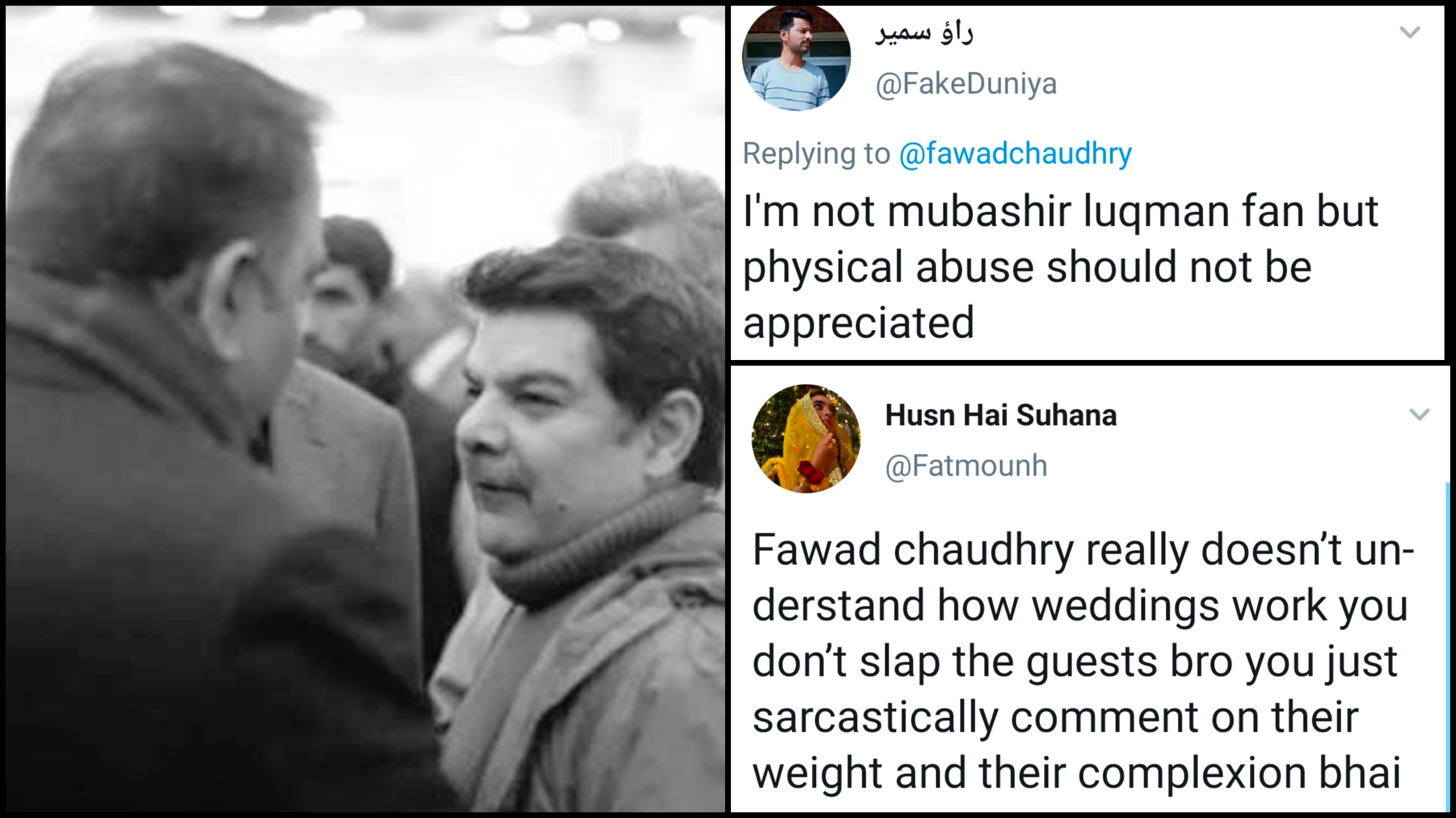 In an unexpected turn of events where the world has been busy discussing the possibilities of a third world war, Pakistani tweeples were busy discussing Fawad Chaudhry, Mubashir Luqman and Hareem Shah after the news of Fawad Chaudhry slapping Mubashir Luqman surfaced.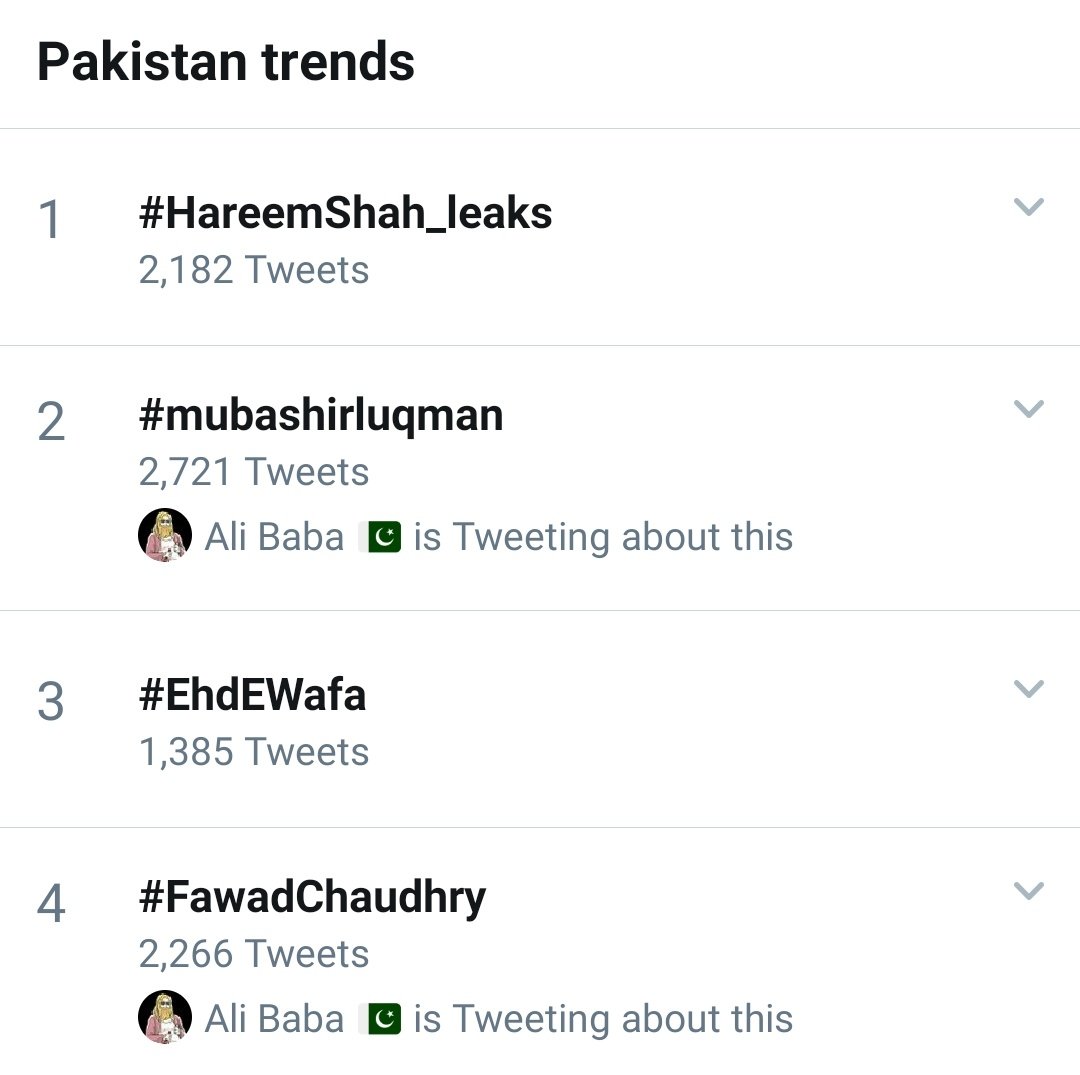 As per the reports, Fawad Chaudhry and Mubashir Luqman were at a valima ceremony where the two got into an argument and Fawad Chaudhry slapped Mubashir Luqman. The minister for Science and Technology then quoted a tweet on Twitter saying that Mubashir Luqman is not even close being a journalist:
مبشر لقمان جیسے لوگوں کا صحافت سے کوئ تعلق نہیں یہ وہ طوائفیں ہیں جوصحافت میں گھس گئ ہیں، ایسے صحافتی دلالوں کو بے نقاب کرنا سب کا فرض ہے۔ https://t.co/5YQhc8eQMK

— Ch Fawad Hussain (@fawadchaudhry) January 5, 2020
The real cause of the argument was a show that Mubashir Luqman had done a few days back where he claimed that Hareem Shah had disgraceful videos of Fawad Chaudhry:
"کل انہوں نے اپنے پروگرام میں میرے بارے میں کہا کہ ان کی حریم شاہ کے ساتھ ویڈیوز ہیں
آج شادی میں منہ اٹھا کر میرے پاس آ گئے تو میں نے پوچھا کہ دکھائیں مجھے ویڈیوز، تو جواب ملا کہ ویڈیوز تو ہیں نہیں
اس کے بعد scuffle ہوا" – فواد چوہدری@fawadchaudhry @geonews_urdu pic.twitter.com/0uOYSLjQZs

— Fawad Chaudhry (Updates) (@FawadPTIUpdates) January 5, 2020
This allegation about #HareemShah_leaks led to fight between fawad Chaudhary and Mubasher Lucman 👇 pic.twitter.com/hnbFTt460Y

— Murtaza Ali Shah (@MurtazaViews) January 5, 2020
The news sparked debate all over social media, and the netizens had a lot to say!
I'm not mubashir luqman fan but physical abuse should not be appreciated

— راؤ سمیر (@FakeDuniya) January 5, 2020
Some were sneaking in a tip or two:
Fawad chaudhry really doesn't understand how weddings work you don't slap the guests bro you just sarcastically comment on their weight and their complexion bhai

— Husn Hai Suhana (@Fatmounh) January 5, 2020
People were putting it all on Hareem Shah:
Ek Hareem Shah insaan ko, minister se gangster bna deti hai.#HareemShah #mubashirluqman #FawadChaudhry

— 𝓢𝓮𝓱𝓻𝓲𝓼𝓱 🇵🇰 (@itsmeSehrish) January 5, 2020
People were disappointed at the top trends:
Pakistani Twitter is shameful and embarrassing. The world is either burning or on the brink of a war and yet we have #HareemShah_leaks on top of the trends #HareemShah_leaks

— Ata ul Mustafa (@mustafaqadri7) January 5, 2020
There were memes:
Fawad chudhry response to Mubasher Luqman ,when the later refused him to hand over Hareem s video tapes which he revealed in his show…😉🤭 pic.twitter.com/nHkSpzHxLd

— Hina Aftab (@aa_hin) January 5, 2020
Minister of science and technology explains the relationship between kinetic energy and heat energy to a science enthusiast

Islamabad 2020#HareemShah_leaks pic.twitter.com/TnjrxiuiVc

— Asif 🥀 (@AsifJavedAsif7) January 5, 2020
Some were of the opinion that Mubashir Luqman deserved the slap:
He completely deserves a slap for being dressed like that at a Valima! #FawadChaudhry pic.twitter.com/DiftOzIS7R

— MNA 🍁 (@MNA23march) January 5, 2020
Mubashir Luqman got what he deserved, he is black mailer

— arshad syed (@arshadsyed001) January 5, 2020
Some live-tweeted the scenario:
went to my friend's walima where fawad chaudhry conveniently stole his thunder by bitch slapping mubashir luqman.

— Talal Swati (@talal_swati) January 5, 2020
People were tweeting out reactions:
After receiving " Thappar" from Fawad Chaudhry
Mubashir Luqman be like#FawadChaudhry #mubashirluqman pic.twitter.com/zeURX3ocpS

— Ak47♛ (@HolaItsAk47) January 5, 2020
Some actual attendees were bummed to miss the action:
i literally just went outside the hall and fawad ch slapped mubashir luqman. matlab pass hotay hoye bhi itna memeable moment hath se chala gaya :((

— Ali Chaudhry (@yakkgames) January 5, 2020
People were appalled:
Such a barefaced full movements in Pakistan History., now just for a girl our ministry of science and technology and the famous anchor will flight .What's else left now#mubashirluqman #HareemShah_leaks pic.twitter.com/eLK1ZPfZLz

— 𝑯𝒖𝒔𝒔𝒏𝒂𝒊𝒏 (@MHussnainAFzal) January 5, 2020
And there were more memes:
Hareem Shah Right Now..#HareemShah_leaks#mubashirluqman pic.twitter.com/i5m6XV2Aik

— Syed Ali Raza (@sar512) January 5, 2020
After watching #FawadChaudhry slapping #mubashirluqman
Me:#HareemShah_leaks pic.twitter.com/GDulWkZR4w

— hamzakaleem (@hamzakaleem5) January 5, 2020
There were people who wished that authorities would look into the matter seriously:
Please do not compare #HareemShah_leaks to Qandeel Balouch. Qandeel did what she did and owned it. Hareem and Sandal hide behind the mask of Tiktok and blackmail people for dirty money. I sincerely wish any authority could block their social media or charge them for blackmailing

— Aisha Randhawa (@HariMirchein) January 5, 2020
What do you think about this situation? Let us know in the comments below!