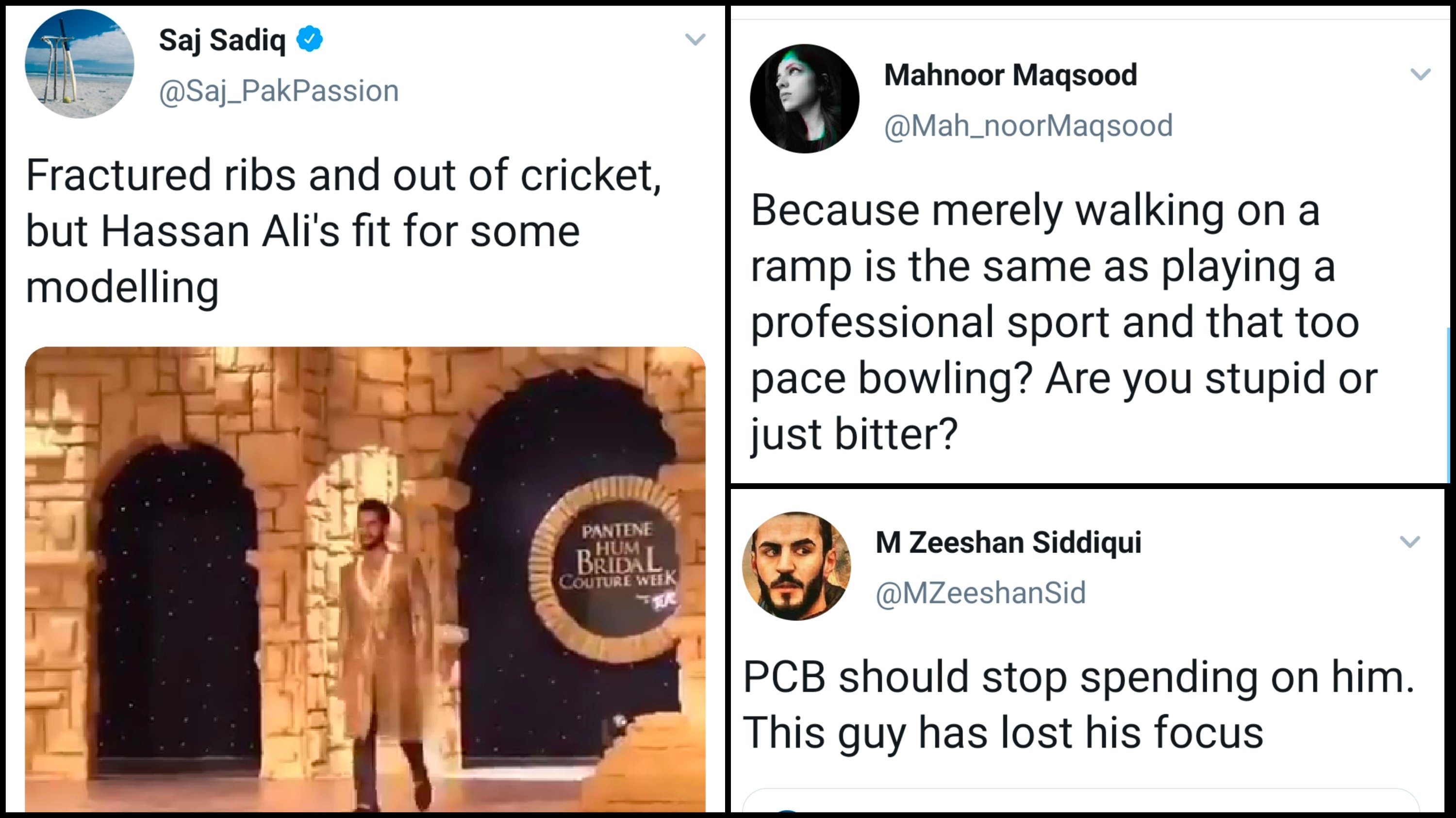 Cricketer Hassan Ali invited criticism towards himself after walking the ramp in a fashion show where he pulled off his famous celebratory move, after being ruled out of the two-Test home series against Sri Lanka.
Fractured ribs and out of cricket, but Hassan Ali's fit for some modelling pic.twitter.com/qTx0BXyed2

— Saj Sadiq (@Saj_PakPassion) December 8, 2019
And while he was pulled out of the current squad due to coritcal rub fractures, the internet was surprised to see him!
This guy @RealHa55an disappointed a lot. Its seems he's more interested in out of the ground activities. His performance was dismal after CT17, he has to be serious and give performance to be in team

— Adeel Speaks (@adyadeel) December 8, 2019
Some thought it was all about money:
Making more money than playing for Pakistan and alot more happy I would guess!

— Naz (@Naz1o) December 8, 2019
Jai Jai Money

— Aqi Ejaz (@daringaqi) December 8, 2019
He got Beautiful house, car, wife & fame.
What else he wants now?
Gone those days when players play for country's prestige and for self actualization. https://t.co/ywltZxHQFx

— His Highness Tab 👑🇵🇰🇹🇷 (@DearTabisshtaha) December 8, 2019
Lo bhaee 😂
Ye Shadi k Bad Se Begar Gaya hai 😂😂

— Ahmed dada 🇵🇰 (@_iamAhmedDaDa) December 8, 2019
Some were telling him to go to Bollywood:
Such a shame! He should better join bollywood!
A player with zero class #HassanAli https://t.co/XzvnUuoOb4

— Golden Hope (@GoldenHope10) December 9, 2019
Some were questioning his priorities:
Priorities.. https://t.co/5RHCV366kJ

— No fear (@Nofear10001000) December 9, 2019
People had questions:
@RealHa55an .. bhai sb ye kis line me aagae aap ??

So, should we expect early cricket retirement from you ??? https://t.co/qErR0RR51I

— DaNii (@DaniiSays) December 8, 2019
Some thought he had lost his focus:
PCB should stop spending on him.
This guy has lost his focus https://t.co/qygL8iaquP

— M Zeeshan Siddiqui (@MZeeshanSid) December 8, 2019
People thought the fame had gotten to his head:
Some can't handle the fame,money…@RealHa55an is gonna end up his career with his pathetic attitude towards cricket https://t.co/jMJJtgneZo

— Qurban Ali 🇵🇰 (@imqurbanali) December 8, 2019
And while most were busy cursing him, there were a ton of people who came forward to defend him:
Because merely walking on a ramp is the same as playing a professional sport and that too pace bowling? Are you stupid or just bitter? https://t.co/4UpJerwbDP

— Mahnoor Maqsood (@Mah_noorMaqsood) December 8, 2019
Comparisons were made:
Because bowling at 140 clicks is the same as walking down the ramp. Stupid analogy! Expect better from sports journalists. Reminds me of how everyone lost their minds when Shoaib Akhtar has a knee injury but still went to a night club back in 2005. https://t.co/df3hBiNbNc

— Mirza Moiz Baig (@MoizBaig26) December 9, 2019
Some commented on how handsome he looked:
But sir, he is really looking very smart and dashing

— Shah (@Shahmmehmood) December 8, 2019
Some were criticising the haters:
"WHY IS THIS SPORTS PERSON HAPPY AND DOING SOMETHING THAT IS NOT SPORTS????"
-Ancient Pakistani Proverb https://t.co/lqVnnIBwzs

— No (@Bluemagicboxes) December 9, 2019
There were personal attacks too:
What an idiotic comment, spoken like someone who hasn't played a sport his entire life https://t.co/yHOvYxpziA

— hammad 🇵🇰. (@HF00TY) December 8, 2019
Jeez!
Oh my gosh. Get over it people. It's a fractured rib, he shouldn't have to stop living. https://t.co/qNSb8gl74u

— NISHKA 🇮🇳 (@NishkaSookdev) December 8, 2019
Some resorted to sarcasm:
Oh no. A player who can't go through extensive physical exertion, is..walking? So obviously he faked his fractured ribs and the PCB medical team have no way to confirm it https://t.co/WqhNxkD89z

— Raja Abdullah (@rajameyang) December 9, 2019
Shots were fired:
Yeah, because modelling must really put strain on his body 🤦🏽‍♂️

— Adil (@adil786123) December 8, 2019
What do you think about Hassan Ali's ramp walk? Let us know in the comments below!