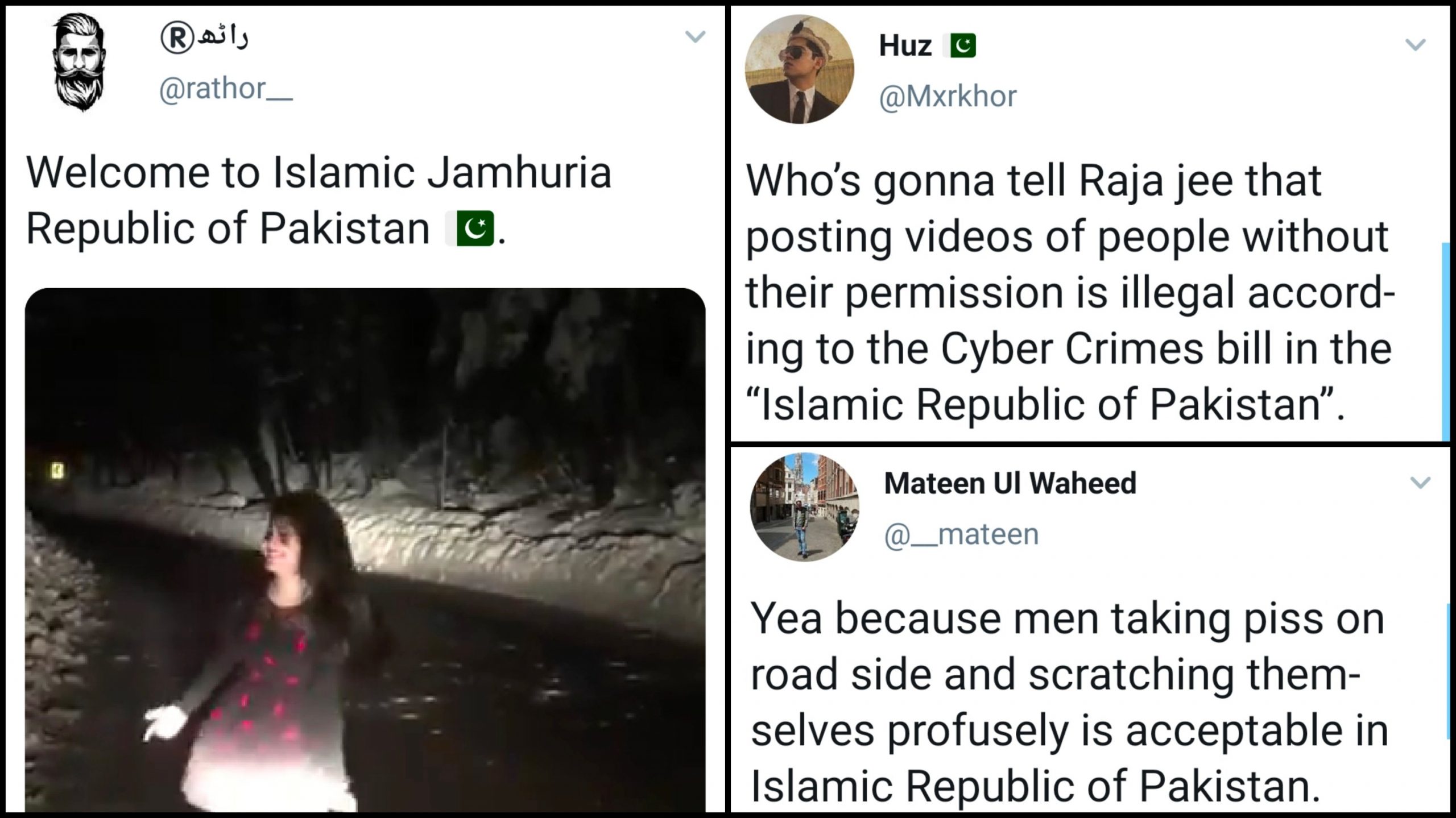 Another day, another guy sharing a video without consent asking the same questions: is this Islamic Replublic of Pakistan?
A guy on twitter shared a video of a girl in an attempt to convince people into shading her for living her life:
Welcome to Islamic Jamhuria Republic of Pakistan 🇵🇰. pic.twitter.com/8Gq3VS52o5

— راٹھ®️ (@rathor__) December 28, 2019
But times have changed and the internet is shading the guy for posting the video without consent and they're in awe of the girl harmlessly enjoying:
A beautiful child dancing with the exhilaration of life & youth.
Why would anyone frown on this?

— Imran Ahmed (@ImranAKisan) January 17, 2020
Uh oh 👀
Who's gonna tell Raja jee that posting videos of people without their permission is illegal according to the Cyber Crimes bill in the "Islamic Republic of Pakistan". https://t.co/HIzj5tHH77

— Huz 🇵🇰 (@Mxrkhor) January 17, 2020
Some came straight to the point:
Nope it's a girl having fun

— Durr e Sameen Mirza (@DsMirza) January 17, 2020
Amen!
Retweeting this for good luck ✨ May we all be this happy and carefree all 2020 https://t.co/N8dc0cNh8y

— punkistan (@pvnkistan) January 17, 2020
Some were in disbelief that this is Pakistan:
Can't be. Everybody seems to be minding their own business. https://t.co/NOWdkk149y

— Yasser Hashmi (@YasserHashmi) January 18, 2020
This obviously was not filmed in the Islamic Jamhuria otherwise the other cars would've stopped with passengers #Gawking at the girl!! https://t.co/tDbzFUuXdY

— Kamran Shafi (@KamranShafi46) January 17, 2020
Some had valuable suggestions:
Ok but I really don't give a shit about her about you and your 10.k followers so please stop sharing this kind of videos. You should find a job for yourself Uber hi chala loh yaar chaar paisay aingay. https://t.co/RSuGLFcT13

— ✞ (@skinyassss) January 18, 2020
Us too!
People having fun is EXACTLY what this country needs, I agree. ❤ https://t.co/ZSl2X0L9Nd

— H™ (@MahatmaaGanji) January 17, 2020
People wanted him to stop being the moral police:
Stop your idiotic moral policing and let her live the life as she wants. I love her dancing moves 😍 https://t.co/pTHfFgUUL3

— Abdullah Dayo (@AbdullahDayo) January 17, 2020
I guess we'll never know:
Why can't men stand a happy woman?! LIKE SIR? What's your DEAL? https://t.co/FDSv0Y4BDE

— Sajallolol (@SRojain) January 17, 2020
People wanted his account to be reported:
Her dance is so beautiful with awesome music. You are moronic bigot who has uploaded her private video, and teaching us Islam. your account must be reported. https://t.co/dCeex6YTvN

— Blunt (@Shinamuller) January 17, 2020
Some were lauding him on his hypocrisy:
Han han, lekin video puri dekh k, saray mazay le k, phir social media pe post kar k toh tu Islamic Scholar ban gaya hai na bhai??? Red salute to your hypocrisy.
This is her individual act. There is nothing to relate with Islam or Pakistan. Grow up and get a life please 🙏 https://t.co/kY4yoXE1YY

— Mohaddis🦉 (@Kafiraana) January 16, 2020
Many were calling him out on the priorities:
In last Ten years Pakistan has seen average 111 acid attacks, and well above 1000 honor killing incidents every year but still a dancing girl's video can cause more outrage. You won't see anyone qouting those stats with *is this Islamic Republic of Pakistan* cuz priorities. https://t.co/jQAt9Rr9j2

— Farrukh Abbas (@Farrukh_Abbas12) January 18, 2020
Girl, it's cold!
wth is this, this is just unacceptable girl you need to watch what you're doing i mean i can't go out without wearing 2 pairs of socks in Lahore and she's not feeling cold even in murree.. also rathor fuck off https://t.co/sdZdYxuNxN

— Patriotism in my jeans!!!! (@theodahad_) January 16, 2020
Have you?
If you haven't danced on the street while being young, have you ever really lived? So much fun https://t.co/vISKrIwof5

— Sherry (@CherieDamour_) January 17, 2020
People were also calling out the society on such hypocrisy:
So our female family members can dance infront of Na-mehram male family members on occassions . Its ok . But a girl cant dance on a deserted road in a snowy night , may be with her cousins or friends .

This is hypocrysy .. https://t.co/JccFLq3hmF

— Bay Rozgaar 🎲 (@laalaakhaan) January 17, 2020
Yeah, welcome to Islamic Republic of Pakistan, where men are so trash that they upload videos of women enjoying, they rape women, harass women, beat women, watch porn, publicly masturbate to make women uncomfortable. https://t.co/stCbhJoug5

— رافعہ (@azaadpanchiee) January 19, 2020
Please!
There should be a mandatory course like PST and islamiyat in Pakistan too which teaches how to mind your own business …. Moron https://t.co/gpSaB5ncPo

— Sindhi Adrak (@munnishadab) January 18, 2020
People came in with facts!
Yea because men taking piss on road side and scratching themselves profusely is acceptable in Islamic Republic of Pakistan. https://t.co/JlAeP8Kv6b

— Mateen Ul Waheed (@__mateen) January 17, 2020
It also keeps you warm!
There is nothing wrong in #happiness and #dancing is pure bliss. Kudos girl keep up the dance you also burn #calories and it is very #healthy thing to do as well. 👍😊. https://t.co/tyxkBtm7ga

— Syed Ali Raza Usama (@Usamasouthasian) January 17, 2020
You go, girl!
Sis got moves and I'm happy she's living her best life.
Yeh kamina on the other hand video enjoy kar k ab upload kar raha hai to try and shame her. You're the low life for trying to shame someone for enjoying themselves. Hope the roof falls on uuuuuu https://t.co/Woyd0ylcJK

— corn on a cob (@lubbadubbdub) January 17, 2020
Now that's awkward:
Lmao dude thought that people will get on the hate train but they are hating him instead . His plan backfired https://t.co/5Tab8YjSrJ

— Marwan Ali 🇵🇰 (@marwanali592) January 19, 2020
Even the ones who weren't a fan of the act itself agreed on it being a matter of one's choice:
You can chose not to like it. But fgs let people do what they want. Let everybody do whatever the fuck they want to do as long as they don't hurt anyone. I personally don't like it but who cares. She can dance if she pleases, she can recite the quran if she wants. https://t.co/dqVsBQk4De

— ALI: EK GONDAL (@yaapakistaniyaa) January 18, 2020
Not saying she did the right thing but any words un "gairat mand mardon" k liye jo camera k pichay hain??? https://t.co/RxLZcn3JaL

— Huma (@Mugglllee) January 18, 2020
What do you think about the internet coming forward to support the girl? Let us know in the comments below!